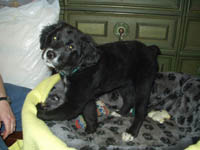 At some point, I think you are supposed to become immune to puppy love. We thought we'd hit that curve long ago. But Christmas week three puppies were brought to our local shelter. There were two black and white ones, cute enough. But the third was this beautiful curly haired, pudgy little blonde (who, by the way, is still available). She was the one that made all the volunteers ooh and ah.
She still does and we can't figure out why no one has taken her home yet. We know why we didn't; she is absolutely perfect! One of her brothers, however, has radial nerve damage to his right front leg, and it will have to be amputated. So his need for foster care was more immediate.
At first, Tucker missed his siblings. But he found a friend soon enough in Kaleb, the rottweiller. While the other dogs were getting tired of Tucker's constant playfulness, Kaleb was following him, protecting him, and playing with him. It is amazing the things that Kaleb allows Tucker to do, as Tucker believes he is winning the wrestling match.
Tucker, pictured below, is with his new parents.