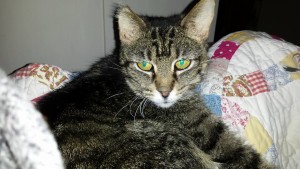 When we met Rue, this "Hemingway cat" (a kitty with extra toes, also known as polydactyl) had been surviving on the street for years, but her luck had just about run out. With part of an ear missing, this skinny little lady looked much older than her eight years. The poor girl had a mouth full of ulcers preventing her from eating well, and a terrible upper respiratory infection. She needed medical attention, and indoor foster care.
In foster care Rue, named for spunky Rue McClanahan from The Golden Girls, gained a full two pounds and recovered most of her health. This sweet and sassy brown tabby is also very affectionate and is even caught playing like a kitten when she thinks no one is watching! She may be small, but she definitely demands respect in a household full of animals.
Still, Rue is one of our "special needs" kitties. Although she recovered from her upper respiratory infection, she has scarring in her nasal passages from the severity and length of the infection, and a mild case of asthma. She also had recurring mouth issues, for which the only long-term solution was removal of her teeth. Mouth ulcers are thought to be caused from an unknown immune disorder and, for some reason, the gums tend to attack the teeth. We know from past experience that removing the teeth in this situation can vastly improve the quality of life for cats who suffer from this disorder. 
Rue is now the official greeter. She feels she must introduce herself to anyone who visits, and if she knows they are leaving, she must also say goodbye! She can be quite loud and demanding if she thinks her "hello" is being ignored!