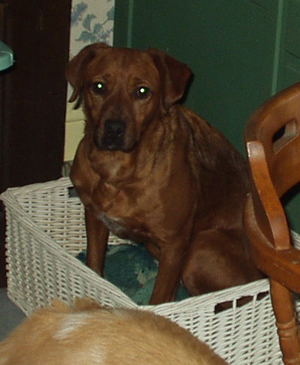 She wanted to take the treat through the fence, but she just couldn't. She might have to touch us. We might move too quickly and try to touch her. So no, she wouldn't take the treat.
That was the first visit. After a while, she saw that other dogs were taking treats, and the treats smelled really good. So she approached the fence to get our attention. It took some time, but this time, she took the treat and ran. There were many more days like this, taking treats and running. But she was getting to know us.
The day we finally tried to get her out of the yard where she had been living since she was a baby, untouched by humans, it took 45 minutes to catch her. Her whole body quivered when touched.
We HAD to take her, though. She was thin and in need of vaccinations and worming. She was even more in need of love.
Now, after a year in foster care, Missy loves other dogs and follows their lead. She even greets people when they come in, as long as there is something between her and them (a fence or a baby gate). But she is getting less shaky about being touched and allows us to brush and pet her. She needs someone to continue our work with her on a one-on-one basis. She is an extraordinarily gentle dog.