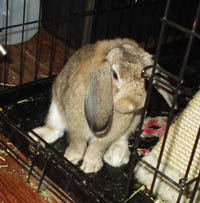 No one knows where she came from. On a Saturday afternoon in August she spotted two people in their driveway and hopped right up to them. Luna, a tame flop-eared bunny, somehow dodged the many dangers of cars, cats, & dogs, and arrived with only an injured leg. She was probably an Easter bunny that someone got tired of and put outside. It happens every year, and they usually do not make it.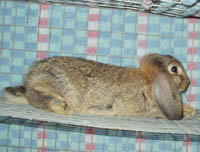 Luna is a special bunny, not only because she is a survivor, but because she is so laid-back. When she got here, she immediately kissed our dogs and cats through her temporary cage. We've found her to be fearless, which makes it all the more amazing that she survived the dangers of other animals outside.
Luna keeps us laughing with her antics. When she's out of carrots, even though she has other food, she throws her food crock around the cage making such a racket that the only thing for us to do is supply her with more carrots! We have fallen in love with her, and because bunny adoptions usually do not work out, we've decided to build her a multi-level palace with a window view of her own.