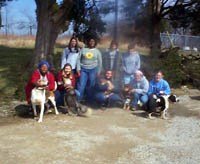 They arrived in a van the first Monday morning of spring break. There were nine of them in all, college students from Wayne State University in Detroit, Michigan. They ranged from freshmen to seniors, education majors to pre-med students. The one thing they all had in common was this: they all love animals and were giving up their spring break to come to Kentucky and volunteer through Holly's Place. These students spent all year fundraising to finance the trip to Kentucky.
While they spent most of their time with us, digging fence post holes, scooping litter boxes, and bathing dogs, they also had the opportunity to visit other groups in the area, including Anderson Co. Shelter.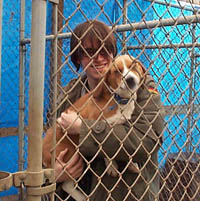 At first, a few of the students did not want to go to the shelter and see animals in cages. But we explained that they could not get a full picture of animal rescue without seeing a shelter as well. The few who did not want to go there were the same ones who did not want to leave at the end of the day. By the end of the week, they had named all the animals at the shelter.
Back at Holly's Place, we discussed various aspects of animal rescue and what an individual can do—everything from a single animal transport to fostering. These students amazed us, coming early every day and leaving late, willing to do anything that would help the animals.
THANK YOU Jasmine, Maureen, Christina, Joi, Jenn, Jacob, Mindy, Gretchen & Jennifer! You are welcome here again any time! We hope your efforts will inspire others. You certainly inspired us!
Update: We still hear from some of them. And Jenn actually found a home in Michigan for Shadow, a dog at the Anderson County Shelter.