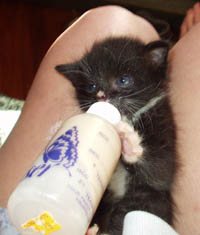 In September a Lawrenceburg family drove to Bowling Green to buy a boat. When they returned home, they found that the boat was not the only thing they brought back with them. Cupcake, a 2 week old kitten, was inside the boat without her mother or any siblings. The poor kitten had likely cried in vain the entire trip, with no one to hear him over the roar of the highway.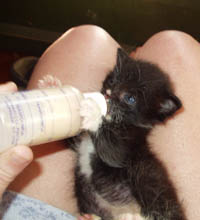 Obviously, Cupcake was not yet weaned. He was brought into the shelter, but they had no lactating mothers to put him with, and no round-the-clock volunteers who could bottle feed him every 2-4 hours.
Needless to say, Cupcake ended up here, being bottle-fed around the clock. And, as resident foster-mama Lady (read more about her in below article) always has, she took him in and is in charge of bathing him. Cupcake thinks his mama is a large furry blonde, and Lady is in heaven having a little one to care for.
Cupcake should be ready to part with Lady sometime in October. However, we have many other kittens and cats who are ready for adoption right now!