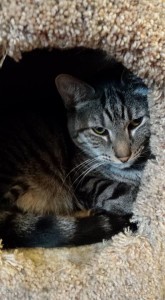 It still seems like yesterday, probably because it was one of the worst hoarding cases the KY rescue community had ever seen. Over 350 animals, nearly all with mange and ringworm, were confiscated from "Clean Slate Rescue" in Adair County. Many of the cats had not survived by the time rescuers arrived to investigate. And an unheard of 85% of those surviving cats had FIV or FeLv.
Two of the cats we took, Nicky and Sam, were luckily negative for any major cat diseases. Sam quickly found a permanent home with his foster mom Michelle, where he remains healthy and happy.
Nicky's situation was more complicated, as he had a severe "intention tremor," and also was fearful of humans to a degree. He came very close to being euthanized within days of his rescue, but fortunately we had gone to Adair County, seen him, and "put our name" on his cage to be taken "home" with us.
We learned that Nicky simply has to be approached a certain way in order for him to understand no one is "coming after him." And as for him tremor, he quickly learned how to function despite it. He can climb cat trees and stairs, although there was an initial learning curve. He just needed time, and patience. That's something we had a lot of.
Despite our best efforts, we haven't found Nicky a regular home. And at the end of Petco adoption days, he was always overjoyed to see us come pick him up so he could be reunited with us and his buddies, particularly Squeak. After all this time, he is still on Petfinder and available to the right home, but we don't make him go to adoption days anymore. Instead, he spends his Saturdays curled up in a cat bed with Squeak, who is his closest friend here.
It's special needs cats like Nicky who need your continued financial support to continue to quality lives with Holly's Place when the right home cannot be found. Nicky was lucky to be alive – very lucky, because most of the cats were not by the time help arrived. And many of those who were had their lives cut short by cat diseases.