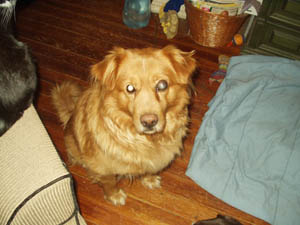 We know Bobby Bear had a good home at some point. He was clean, well-adjusted, and already house trained when he came to us. But the 3 year old retriever mix, who was brought into the local shelter as a "stray," never was claimed.
We could immediately see that one of his eyes had problems, so we took him to The Animal Clinic, where we found out he is completely blind in both eyes.
Like Jackson the blind cat, Bobby Bear adjusts quickly to new surroundings, and gets around amazingly well. He knows how to find his food, water, the couch, and people!
Other dogs and cats sense almost immediately that he can't see, and tend to move slower around him at first. But once the introductions are over, Bobby lets them know he is ready to play. And believe it or not, it works! He has played with Jack Russells to Rottweillers here, and had a good time.
Someone abandoned this poor guy, but he still trusts easily. His spirit is strong, and we have every reason to believe that he will live a long, happy life.
Bobby Bear deserves someone who will reward his loyalty for life. Can any of you help make up the past to him? All he asks for is a little corner to call his own, and people who will love him back.
Update: Bobby Bear found a home!