Stories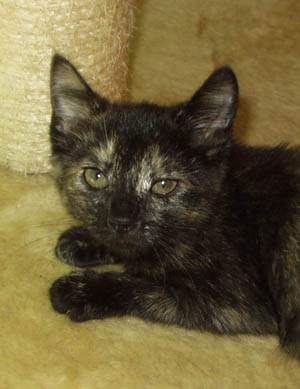 The Duchess was one of over a dozen cats and kittens who were dropped on someone's doorstep in the middle of the night. This little tortoise shell kitten was different from the rest…she was born with no back feet. Something went wrong genetically for this girl. Her back legs formed and then just stopped at the ankles. Continue reading →
Holly's Place specializes in giving dogs and cats second chances, but the animal rescue also did the same for Cathy Miller. Last Christmas, Miller's
dog, Colby, just "woke up sick," she said. So sick, that Miller, who lives in Lawrenceburg, knew she needed to get him to an emergency clinic in Lexington. "I didn't get Colby to Lexington in time, and he died in my arms on the way," she said. "I had so much guilt."
Miller felt like she let Colby down and that she should have been able to do more for him, she said. "I finally realized that even though I couldn't help Colby, I could maybe help some other animal," she said.
To view the entire story of Cathy Miller, please read Anderson News Article (PDF).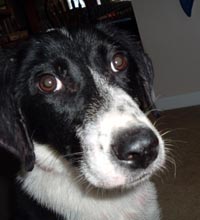 "Headlight," now named Jack, was lying in the middle of the road, too weak and depressed to move out of the way of the car coming around the bend. Thankfully, the woman in the car saw Jack and stopped. The little 9 month old border collie mix was scrawny from malnourishment and was full of mange. Continue reading →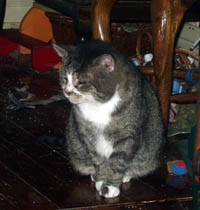 He has a 22 gauge bullet lodged in his right cheek, and part of his nose is gone where the bullet first hit him. He's a little bit Clint Eastwood and a little bit Alan Alda – both tough and tender. He has battled two major viruses and kidney failure, and is still around to "tell" his story. He is a real inspiration, and his name is Tush Magoo, a name which calls for a bit of an explanation.
When he showed up at Alice's house in Louisville, he was an impressive-looking stray tom-cat. But he was leery of the world, and walked with his tail down and rump sort of tucked in – which is where "Tush" comes from. And then the poor guy had these scarred, drippy eyes that were always "gooey" looking – which is where Alice got his second name, "Magoo." Continue reading →
She wanted to take the treat through the fence, but she just couldn't. She might have to touch us. We might move too quickly and try to touch her. So no, she wouldn't take the treat.
That was the first visit. After a while, she saw that other dogs were taking treats, and the treats smelled really good. So she approached the fence to get our attention. It took some time, but this time, she took the treat and ran. There were many more days like this, taking treats and running. But she was getting to know us. Continue reading →
When Victoria King, Holly's Place president, viewed the horrific images of shelter dogs in Henry Co. being cruelly shot, she was horrified. But moments later, she went into action and met the problem head on. It was time to mobilize. Victoria called the county judge executive, the Kentucky Department of Agriculture, television stations in Louisville and Lexington, and over 80 animal rescuers. Continue reading →
The car stopped, half-way pulled over, and dropped Pete off by the side of the road. Luckily for him, the person who saw this stopped to help. He was covered in mange & extremely confused & uncomfortable when he came here that first night. We had never seen a dog so depressed as Pete was. He didn't resist walking on the leash, but he followed, head down, tail tucked, as if to say "I don't even care what you are going to do with me now." Continue reading →
Hobbs loves to be held & snuggled and is a great lap cat. He was found limping around with severe injuries to his back right leg. He was brought to an employee at Lowes, who also happened to be one of our volunteers. The bone was protruding from his wounded leg, but thankfully, there was no infection. Continue reading →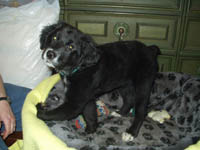 At some point, I think you are supposed to become immune to puppy love. We thought we'd hit that curve long ago. But Christmas week three puppies were brought to our local shelter. There were two black and white ones, cute enough. But the third was this beautiful curly haired, pudgy little blonde (who, by the way, is still available). She was the one that made all the volunteers ooh and ah.
She still does and we can't figure out why no one has taken her home yet. We know why we didn't; she is absolutely perfect! One of her brothers, however, has radial nerve damage to his right front leg, and it will have to be amputated. So his need for foster care was more immediate. Continue reading →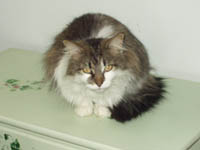 What's wrong with this picture? A cat sitting in the middle of five lanes of traffic at a major intersection on Hwy 127 in Lawrenceburg. And no, she wasn't in the median. Hannah was sitting in the left-hand turn lane!
Thankfully a woman in a van noticed the situation and pulled up next to Hannah. When she opened her door, Hannah ran under the vehicle. We arrived on the scene in time to see Hannah scurrying under the van. By the time we were able to pull over and run across Hwy 127 another woman had gotten out of her car and crawled under the van to get Hannah. Continue reading →