Stories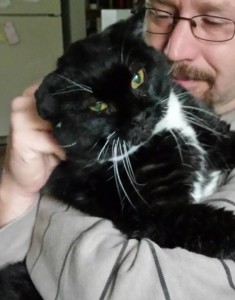 Colton deserves some props if only because the old dude turned 19 this year! When he first came to us, he had such terrible chronic mouth issues, that they could have led to infection throughout the body, and his demise. (Yes, dental and mouth issues can be that serious! So if you have a cat or a dog with bad breath, definitely get it checked out.) Fortunately, we got that cleared up, and he's really been living high on the hog since becoming an indoor cat. As the oldest in our foster crew, he commands a bit of respect. When he wants a midnight snack and we put a bowl out for him, the others sit a respectful distance back and let him eat first.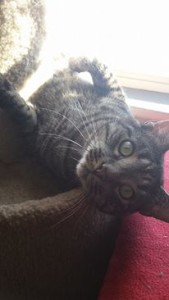 Sometimes we don't know one of our rescues will be a "lifer." We go in assuming we can get most back on their feet and adopted out. But occasionally there is more going on than meets the eye. Such was the case for Stallone.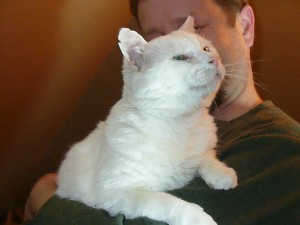 Last week our 16-year-old FIV positive boy Cash was not looking well so we hauled him to the vet for a thorough check. The good news is his blood work looked great, especially for an FIV cat his age. The bad news is he has a food allergy and now requires a more expensive limited ingredients food to stay well.
We have many special needs kitties like Cash who are FIV or FeLv positive, are seniors, or who have other special needs. If you would like to sign up for monthly giving to help sponsor our special needs cats, you can do so with any amount that fits your budget. Simply go here and scroll down to the monthly giving options.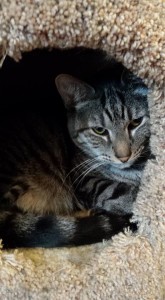 It still seems like yesterday, probably because it was one of the worst hoarding cases the KY rescue community had ever seen. Over 350 animals, nearly all with mange and ringworm, were confiscated from "Clean Slate Rescue" in Adair County. Many of the cats had not survived by the time rescuers arrived to investigate. And an unheard of 85% of those surviving cats had FIV or FeLv.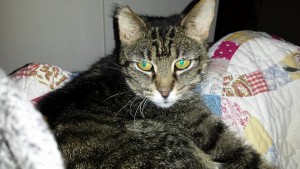 When we met Rue, this "Hemingway cat" (a kitty with extra toes, also known as polydactyl) had been surviving on the street for years, but her luck had just about run out. With part of an ear missing, this skinny little lady looked much older than her eight years. The poor girl had a mouth full of ulcers preventing her from eating well, and a terrible upper respiratory infection. She needed medical attention, and indoor foster care.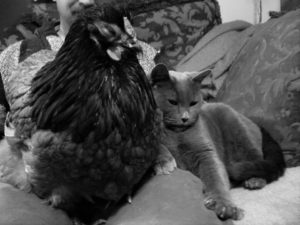 Last year, just as our Director was busy packing up to move to a different house, another kitty in need came. Walking by the porch window, she thought she saw two little mice on top of a chest just outside the window. She did a double take, and realized they were newly born kittens – as in born within the last hour. They were half frozen, and Mama cat was found not far away, looking like she had no idea what had just happened. Victoria had never seen this cat before; she had simply showed up out of the blue.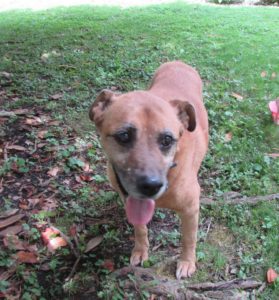 by Mary Anne Mathews
In September of 2005, my daughter and I decided to take 2 shelter dogs to a doggie pool party. On the day of the party, we were informed that some of the dogs at the shelter had parvo, so none of the dogs were allowed to leave. Holly's Place had a couple of dogs that would enjoy a day out, so we picked up Houston and Duke and headed to Versailles.
We receive a lot of phone calls from people who want to adopt small dogs. Generally, we do not have many small dogs in our program for one simple reason-they get adopted out of shelters very quickly and do not need our help as often. It is the large breeds who get turned in once puppy-hood is over, and it is the large breeds who wait and wait for loving homes that never come. Continue reading →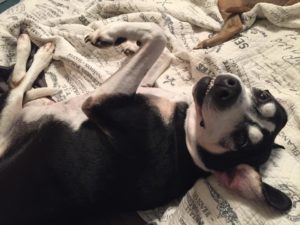 by Nici & Keith Gaines
Beau is a mischievous hound. You can just look in his eyes and see that he is thinking about what he can get into – or out of – next. After Holly's Place had him for awhile, we realized he could, and would, escape any yard within seconds of being let out the door. We agreed to foster him – temporarily of course – until he could find his forever home. Continue reading →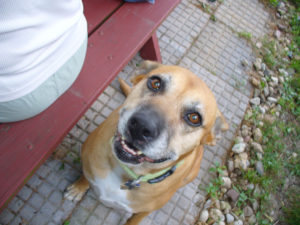 For about a year and a half after my grandmother's blue heeler Foxy had passed away, we all tried to convince her to rescue another dog, so she would always have company. But no dog was ever going to measure up to Foxy, and Granny was adamant about not getting another dog. So we all finally just shut-up about it, and let her be. Then about 3 years after Foxy had passed, Granny called me up and said, "I want you to find me a dog." I asked her what she wanted in terms of personality, size, and breed. Granny, bless her heart, just said, "I'll leave that up to you." Wow, right?
Continue reading →